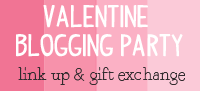 I'm so excited to be participating in this
FANTASTIC
Valentine's Day Blog Link Up Party hosted by some fabulous ladies. I originally found the link up through
Lauren
from the Grey Desk Blog.
My Pair Up was with Rikki from
Thirsty Nerdy Cats
. This girl is GREAT. We found out we had plenty in common. We even lived in the same state for a while. She also shares my love for UK sports and Randall Cobb. Just so happens, I'm a lover of the Green Bay Packers. Pretty Cool.
Anywho, Rikki has also JUST launched a new blog and YOU need to check it out. She is a book, wine, and cat lover and blogs about it all. A great triad in my opinion.
Now, for the interesting part. Rikki and I have thought for the past 24 hours that my gift was missing. I was even searching for it in the dark last night. FedEx was on the top of our bad list. BUT, no worries. I found her package waiting for me this morning on the porch next door.
She sent me a creative, WONDERFUL gift that I can't wait to enjoy. Inside my box were tons of little goodies. As we've gotten to know each other, she has found out how busy I am. SO, she sent me a little card telling me the goodies were for me to "indulge in some me time." I have some lotion, bubble bath, sleep mask, lip gloss, nail polish, candle, note cards, and some DELICIOUS chocolate chip cookies. My goodies are all Strawberry Champagne scented and smell fantastic.
I can't wait for the "me" time. It has been such a pleasure getting to know Rikki. So you should check out all of the different blogs out there. There are tons of great people waiting to meet you!